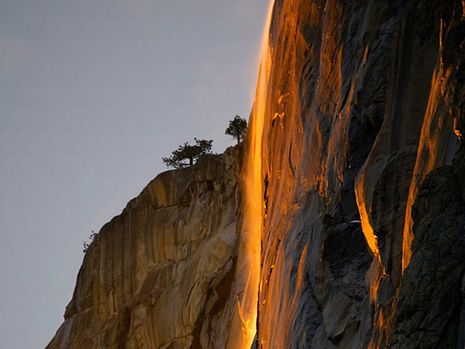 Yosemite - What's on your mind at the sight of the falls but there is red like a fire ?
This is not fantasy because tourists can see the natural wonders of Yosemite National Park , California , USA .

This waterfall is not unusual .
Locals named Horsetail .
Maybe because at first glance the waterfall is shaped like a horse's tail , hence named so .

But not the shape that most attracts tourists , but the sensation of another waterfall from the others .
When viewed at a certain time , Horsetail like not lowering the water from a height , but a fire .

Yes , this is not carelessly said .
Horsetail waterfall at a glance it does look like sparks.
Red and blazing orange looks like a real fire .

But do not trigger fear .
Turns Horsetail did not drain the fire .
All that flows here is really just plain water .

Peek of the official website of Yosemite National Park , on Thursday ( 14/11/2013 ) , the red and orange sun reflection effect apparently .
When it is , the light reflecting sunlight to the waterfall , and the impact to the appearance of a waterfall -like sparks.