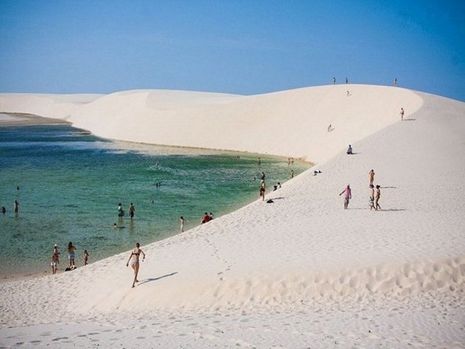 Sao Luis - There are different from the desert landscape Lencois Maranhenses in Brazil .
Tourists would not believe that there are hundreds of lagoons where the water is very clear and show up in the middle of the desert.
You are free to swim there !
Amusing Planet of the beheld , Thursday ( 14/11/2013 ) is a protected national park lies in the 4 cities, Humberto de Campos , Primeira Cruz , Santo Amaro and Barreirinhas .
Lencois Maranhenses which covers 1,000 square kilometers have been formed thousands of years ago in the tropical country Brazil .
Naturally , mentioned the white sand stored in the river .
Then gusts of winds and ocean currents brought back to the mainland to form the desert .
When the rains heavily in the beginning of each year , the desert is able to accommodate the rain to form a lagoon in the middle of the desert soft white .
The rain water will form a turquoise colored lagoon basin beach among the dunes .
The beautiful lagoon inhabited by thousands of species of colorful fish that swim freely .
But there is a different scene when you visit in the dry season .
Lagoons and evaporate it slowly disappeared .
At that time too desert that should be seen in the absence of water .
More remarkable , when the dry season comes , the fish can still survive in the lagoon .
Besides the lagoon , there is also a mangrove forest , palm trees , remnants of dry trees and river panorama Preguicas that decorate around the National Park Lencois Maranhenses .
There is a large lagoon with some of nature's most beautiful ornament in the desert .
For example, the Blue Lagoon and the Lagoon Seagull .
Many world tourists who do not want to spend time there during the holidays and of course swimming in the lagoon .
Travelers should arrive there in May to September .
Therefore , the lagoon will form a perfect and you can freely swim there .
Tourists who want to be there from the state of Maranhao , Brazil's northeast side .
Barreirinhas and departed from Sao Luis to take a bus or a truck with a history of 260 km .
In addition to these two modes of transportation , you also can go by plane .
When it came , the vehicle headed into the desert area is very limited .
Only 4WD cars owned by the management which is ready to transport the traveler to get in this desert